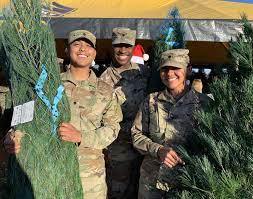 Summarized by the Alliance for Fort Eisenhower
Published December 8, 2022
"So I've away wanted a live tree I have two little ones a six year old and a seven year old so I think I'll be something nice for them to get to see when they walk in the house, smell the pine" said Javon Jones, Fort Eisenhower US Air Force.
Walking away with a free Christmas tree, big or small, soldiers at Fort Eisenhower got the opportunity to experience the magic of Christmas… a few weeks early!
Organizers say giving the free trees to the troops is special because so many of them are far from home over the holidays.