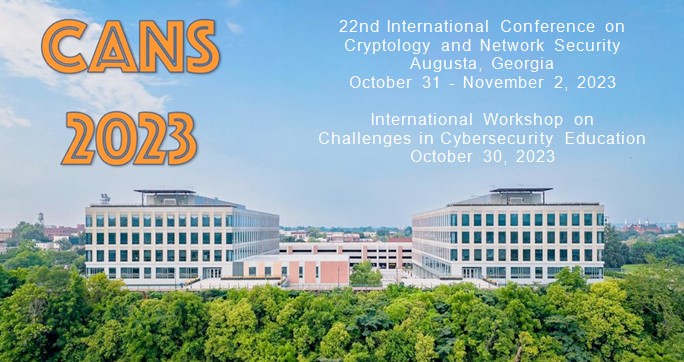 The 22nd International Conference on Cryptology and Network Security (CANS) spans current advances in all aspects of cryptology, data protection, and network and computer security. Hosted by the School of Computer and Cyber Sciences, CANS 2023 will be held on the Riverfront Campus of Augusta University, Augusta, Georgia, USA.
Co-located with CANS 2023 is the International Workshop on the Challenges in Cybersecurity Education that will take place on October 30, 2023
The International Workshop on the Challenges in Cybersecurity Education addresses workforce cybersecurity education needs and challenges from the EU and US perspectives. The workshop features invited speakers who will address cybersecurity education initiatives and existing programs in the EU/US space. The relevant topics encompass the entire spectrum of cybersecurity training and education: K-12, two-year and four-year degree programs, graduate programs, and professional training. Included in the scope of the workshop is the role of Department of Homeland Security/Cybersecurity & Infrastructure Security Agency and the National Security Agency in developing the US academic response to cybersecurity education through the Centers of Academic Excellence program.
For more information and to register: https://www.augusta.edu/ccs/conferences/cans2023/