Richmond County Cyber Summer Camp: Hacking the Future
K-12 Cybersecurity Education Calendar
Alliance for Fort Eisenhower – FortGordonAlliance.com

Richmond County Cyber Summer Camp: Hacking the Future
June 7, 2021

-

July 1, 2021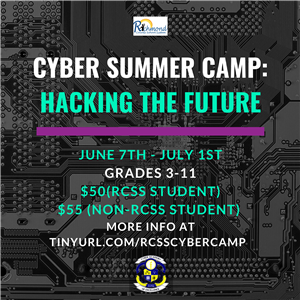 WHEN: June 7th – July 1st
AGE: Students around the CSRA in grades 3-11 (for the 2020-2021 school year).
FORMAT:
Students will participate in TWO 2 hour sessions daily Monday-Thursday consisting of hands-on Computer Science and Cybersecurity activities. Each student will receive a Micro:bit and Raspberry Pi to use and keep at the conclusion of camp!
All middle and high school students will participate in a CyberPatriot Camp sponsored by the Georgia Cyber Center at no additional cost during the week of June 14th-18th.
REGISTRATION: Registration is currently closed.
Additional information can be found at: https://www.rcboe.org/Page/45357