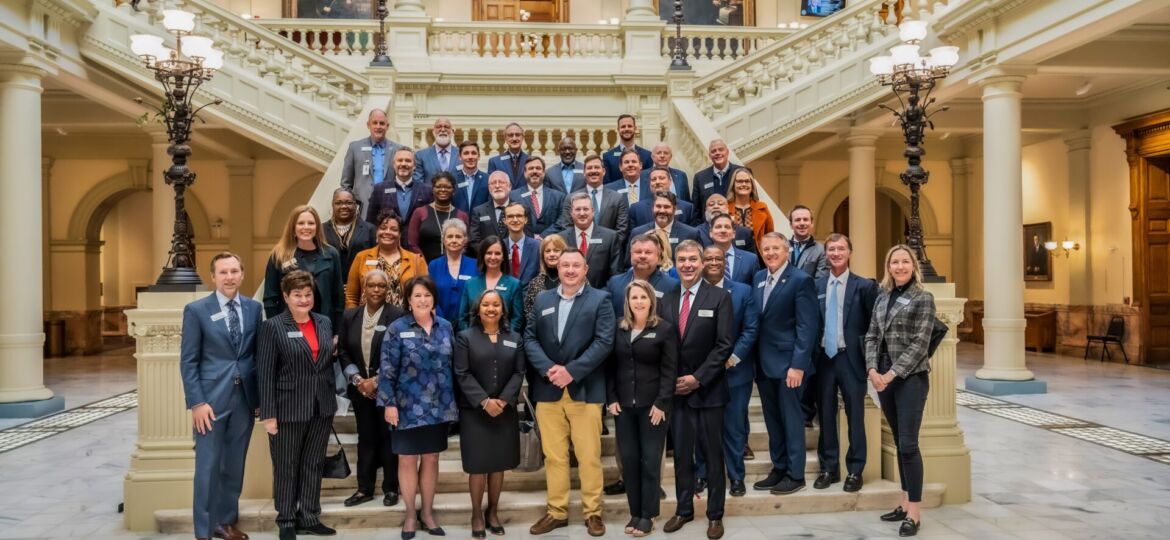 This year's Greater Augusta Day was held on the 6th of February. The day kicked off at the Metro Atlanta Chamber with a panel discussion on Georgia's Housing Crisis and an economic update from the Federal Reserve Bank of Atlanta. Upon arrival at the Capitol, the group received an update from Governor Kemp on continuing to position our state to be a major force in EV production and recycling both across the U.S. and globally. Lt Governor Burt Jones talked about supporting public safety officials and cracking down harder on major criminals and repeat offenders. The afternoon included remarks from Speaker of the House Jon Burns, an update from GDOT Deputy Chief Engineer Andrew Heath and a panel discussion with Georgia Department of Economic Development Global Commerce. And lastly, an update from the Technical College System of Georgia's Commissioner Greg Dozier.
The Alliance's chairman Mr. Stan Shepherd and Dr. Tom Clark (executive director) were part of the distinguished group that traveled to Atlanta. The Alliance and regional leaders continue to advocate for a new interchange and connector off of I-20 and into Fort Eisenhower via the new Gate 6.
Part of the teams legislative agenda stated: Ft. Gordon Cyber Center of Excellence – Military installations across Georgia represent a significant employment and economic impact. In the Greater Augusta Region, Ft. Gordon is the largest single employer and plays an important role in our nation's defense, particular in the areas of communications training, cyber security and intelligence. In particular, the need to ensure Ft. Gordon is supported by a transportation network proportionate to its ever-increasing employment levels is a high priority including the development of the new proposed interchange at I-20/Lewisville Road.
The corridor will improve quality of life and safety for the 32,000 people working on Fort Eisenhower by providing better access to Fort Eisenhower (FGGA) from I-20. This project will alleviate congestion at Gate 1 and allow greater traffic flow through the newly constructed Gate 6 and quicker access to west FGGA. Gate 6 completed on Oct. 21, 2021 and provides six lanes for both commercial and private traffic.
So how can we all help the Fort… we must all advocate for an interchange and direct connector off of I-20 and into the new gate 6 (main entrance to the installation). Traffic congestion continues to rise.  GOOD NEWS: The Georgia Department of Transportation added this project to the TIP for the Louisville interchange consisting of $3.2 million in federal funds and 800k in state funds. This is a great start but as a community, we need to understand that this interchange and connector is a matter of national security. The longer our cyber operators sit in traffic, the longer they are not at their stations performing their duties.
Fort Eisenhower is a world-class Cyber Power Protection Platform, that daily operates, defends, attacks, and influences through cyberspace to fight and win our nation's battles. We must make this interchange and connector a reality.
Dr. Tom Clark, executive director of the Alliance for Fort Eisenhower